SuperLift 8″ Lift Kit w/ Bilstein Rear Shocks for 2019 Chevy Silverado 1500 Legacy 4WD w/ OE Aluminum or Stamp Steel Control Arms
Sale!
Description
SuperLift 8″ Lift Kit w/ Bilstein Rear Shocks for 2019 Chevy Silverado 1500 Legacy 4WD w/ OE Aluminum or Stamp Steel Control Arms
Part: K899B
This is a complete knuckle style suspension lift kit for the 2014-2018/19 (Legacy) Chevy/GMC 1500 Silverado/Sierra 2WD or 4WD (depending on application) – OE cast aluminum or stamped steel control arms
Provides 8" lift height
Includes fabricated rear lift blocks, related drop brackets and rear Superlift or Bilstein shocks
What does it include?
All brackets, cross-members, steering knuckles, strut spacers, rear shocks, rear fabricated block and u-bolt kit, and hardware required specific to the 2014-2018/19 (Legacy) 2WD/4WD Chevrolet/GMC 1500 (Factory aluminum or stamped steel control arms only)
Detailed instruction manual walking you step-by-step through the lift kit installation procedures suitable for do-it-yourselfers (DIY) or professional installation
Installation Instructions:
KEY DETAILS:
This is the Superlift 8" Suspension is the perfect solution for truck owners looking to run a 35" tire with a wider profile. This is a TRUE 8-inch Lift Kit for the Silverado and Sierra. It was designed and engineered to be an 8-inch lift from its conception unlike some companies that use their 6-inch lift components with a taller strut spacer to achieve 8 inches of lift. The steering knuckles and control arm crossmembers provide all the proper geometry correction for the true 8 inches of lift.
Using OE data files allows us to design lift kits that mimic the original factory designed components. This aids in installment and compatibility. It also allows our engineers to design a kit that once installed not only retains your truck's excellent ride and handling characteristics but one that is also compatible with GM's Stabilitrac anti-skid system.
Nothing is left unattended with this 8" lift kit. The brake lines and front sway bar are relocated to make sure there is no binding through the cycle of the suspension.
The rear includes a set of fabricated lift blocks that locks in the axle ubolts though the blocks upper and lower plate giving you the strongest set of blocks on the market today. The block also has ubolts that capture the leaf pack to help counter axle wrap.
NOTE: Does NOT fit 2007-2016 Chevy Silverado's and GMC Sierra's with OE CAST Steel Control Arms
NOTE: This suspension kit WILL NOT WORK with any late model GM Truck or SUV equipped with MAGNERIDE from GM
Before purchase please verify if you have New Body Style or Legacy (Chevy)/Limited (GMC) on 2019 Silverado/Sierra 1500 – This part is for the Legacy/Limited Body Style
TIRE & WHEEL INFO:
| | | | |
| --- | --- | --- | --- |
| Tire | Wheel | Backspacing | Offset |
| 35×12.5 | 20×9 | 4.5-5 | – |
| 35×12.5 | 20×10 | 4.5-5 | -12 to -24 |
IMPORTANT DISCLAIMER: The provided tire/wheel fitments are approximate. Actual dimensions of a given tire size can vary considerably from one brand to another. Manufacturers' wheel offset and backspacing measurement points are not always consistent. Backspacing greatly impacts tire-to-fender clearance when turning. Wheel width and backspacing influence whether the tires protrude past the fenders, and to what extent. Considering these important factors, we recommend that you fit-check your tire/wheel selection prior to purchasing.
INSTALLATION & NOTES:
Installation time: 8 hours
Difficulty level: 3 of 5
Fits:
2014-2018 Chevrolet Silverado 1500
2019 Chevrolet Silverado 1500 Legacy
2014-2018 GMC Sierra 1500
2019 GMC Sierra 1500 Limited
WHAT IS THE DIFFERENCE BETWEEN SUPERLIFT AND BILSTEIN SHOCKS?
Superlift shocks are twin tube, velocity sensitive hydraulic shocks. Bilstein shocks are a mono-tube gas pressurized shock. The Superlift shocks are coated with a white paint; the Bilstein shocks are a brushed steel body with a nickel and clear zinc finish. Bilstein shocks are more tuned for the application and offer more precise valving.
HOW TO IDENTIFY THE TYPE OF CONTROL ARMS, YOUR 2014-2018 GM 1500 IS EQUIPPED WITH.
From 2014-2016 Chevrolet Silverado and GMC Sierra 1500 Pickup trucks were available with three different equipped control arm set ups. During this time frame, GM produce those trucks with 2 different knuckles – Aluminum and Steel. Each style knuckle contain a different ball joint size.
Superlift produces a kit for each set up for both 6.5 and 8 Inch Lift Kits.
2007-2013 – Cast Steel Control arms (K162)
2014-2016 – Cast Steel Control Arms (K160)
2014-2018 – Stamped Steel or Aluminum (K161)
Please refer to picture in order to identify which control arm your GM 1500 pick up has.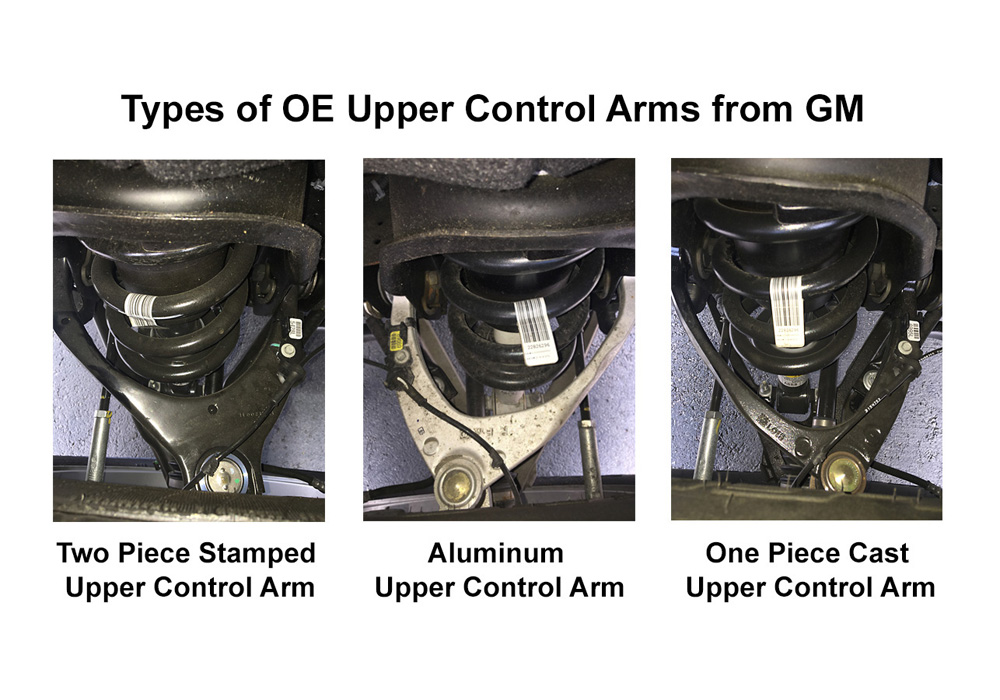 Questions and answers of the customers
There are no questions yet. Be the first to ask a question about this product.