Description
Bilstein 5100 0-2.3″ Lift Front Shocks for 1996, 1997, 1998, 1999, 2000, 2001, 2002 Toyota 4Runner 4WD/2WD
Part: 2×24-248730
Bilstein B8 5100 (Ride Height Adjustable) shock absorbers are designed for trucks and SUV's with a front OE coilover style suspension. Multiple snap-ring grooves in the body allow for different spring seat positions, providing 0-2.75 inches of front lift (depending on application). The monotube shock absorbers feature a 46mm digressive piston a with self-adjusting deflective disc valve setting. Bilstein B8 5100 (Ride Height Adjustable) shock absorbers provide increased wheel travel and improved handling. Utilizing a B8 5100 (Ride Height Adjustable) shock absorber is the easiest way to level out your vehicle.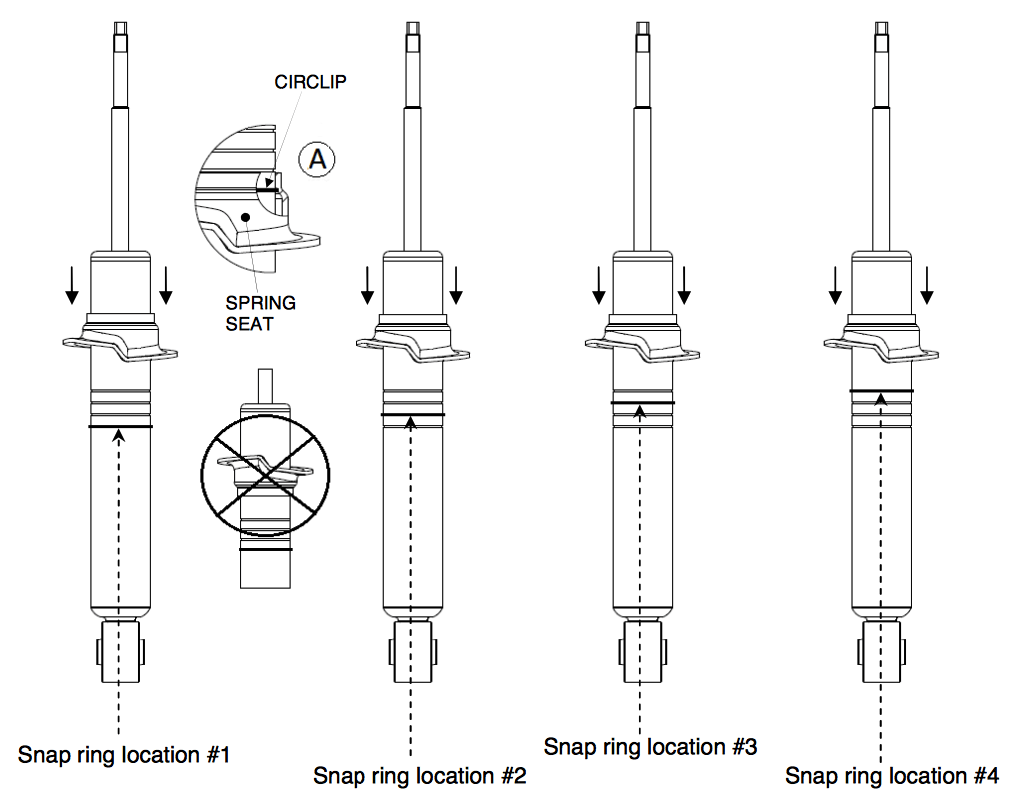 TYPICAL FRONT LIFT HEIGHT**
snap ring

location #

with 2″ lift rear coil

spring installed

(Rate = 220lb/in)

with 1.5″ lift rear

coil spacers

installed

with OE rear

coil springs

1
stock
stock
stock
2
0.78″
0.53″
0.63″
3
1.61″
1.05″
1.25″
4
2.3″
Do NOT use
1.88″
** Ride heights indicated are typical. Actual ride height is influenced by which factory suspension the vehicle is equipped with and its condition; optional equipment and accessories on your vehicle, and other vehicle modifications such as replacement coil springs, wheel and tire combinations, etc.
Modifying/lifting the suspension to your vehicle may raise its center of gravity and may make it more susceptible to loss of control and/or rollover, which may result in death or serious injury. We strongly recommend that you offset the loss of rollover resistance as much as possible by increasing tire track width, and that you equip the vehicle with a functional roll bar and cage system.
Wear seat belts and shoulder harnesses at all times, and avoid situations where a side rollover may occur.
Includes 2 Shocks
Questions and answers of the customers
Will this model fit a 2004 tacoma 4x4 with stock springs and what will the heights be on all notches

What bushings do I use for these and washers?

HI, I have 99 4runner with Bilstein 5100 on the front and rear. 24-28730 with Eibach coils. on the front. I want to do a 2" lift F and R possibly higher in the front. What rear coils should I use? What snap ring position on the front ? And is there any thing else I will need. Thank you.

Will this fit a gx470?

For a 3rd gen 4runner, can these give a 3inch lift when paired with OME 883 springs? if so, what snap ring setting would the shocks need to be set on?

Hi do you guys ship to Canada? And what would be the option, price conversion total as well if you do.

Probably been asked a million times...but what snap ring position do you recommend with 2" liftOME 880's? Some boards say leave it at the lowest (1), but your website here and the included pamphlet talk about the 3rd or 4th notch for 1.6-2.3 lift. Thanks!

Do these not come with the top stem rubber bushing and washers? I purchased these for my car and have a gap at the top now. There was only bottom bushing in my set.

I already have a pro comp 3 inch lift with the full strut, I wanna try to put the 5100 in stead of the pro comp es6000 I just wanna make sure it will work. As long as I have the 5100 set to the same height as the pro combo shock I should be able to keep the pro comp cool correct?