Description
OME 2.5″ Lift Kit for Toyota Tacoma 1995, 1996, 1997, 1998, 1999, 2000, 2001, 2002, 2003, 2004 6 Lug
Part: OME-9504TAC
Includes:
Front coil springs: Choose correct spring based on additional front weight from aftermarket bumpers and or winch from options below

2880 coils – 1.75″ Front lift on stock weight vehicle
2881 coils – about 2.5″ lift with stock front weight or 1.75″ front lift with 110-220lb of front weight)
2883 coils for 200+ lbs additional front weight. (3″ lift, does not use top plate spacers)

New 90004 front Sport shocks (Replaces N91S normal) or N91SC (soft)
95Pf5 Trim packer for level front
Revtek Diff Drop Kit –  Front diff drop kit (4X4 only)
Rear Lift Options:

add-a-leafs
1 1/2″ rear blocks
Complete new springs (Dakars)
NOTE: Complete Rear OME Dakar Spring Upgrade. Choose your year in drop down, '98-'04 OR '95.5-'97
Includes bushings, New longer U-Bolts. Tail pipe relocation is usually required with leaf spring replacement or extended shackle installation – Please order OME FK21
60062 OME rear extended length shocks
See pictures before and after on tacomaworld.com
Download OME lift Suspension installtion instructions
NOTE: Does not fit 5 wheel lug Tacoma's. Please check your application before ordering.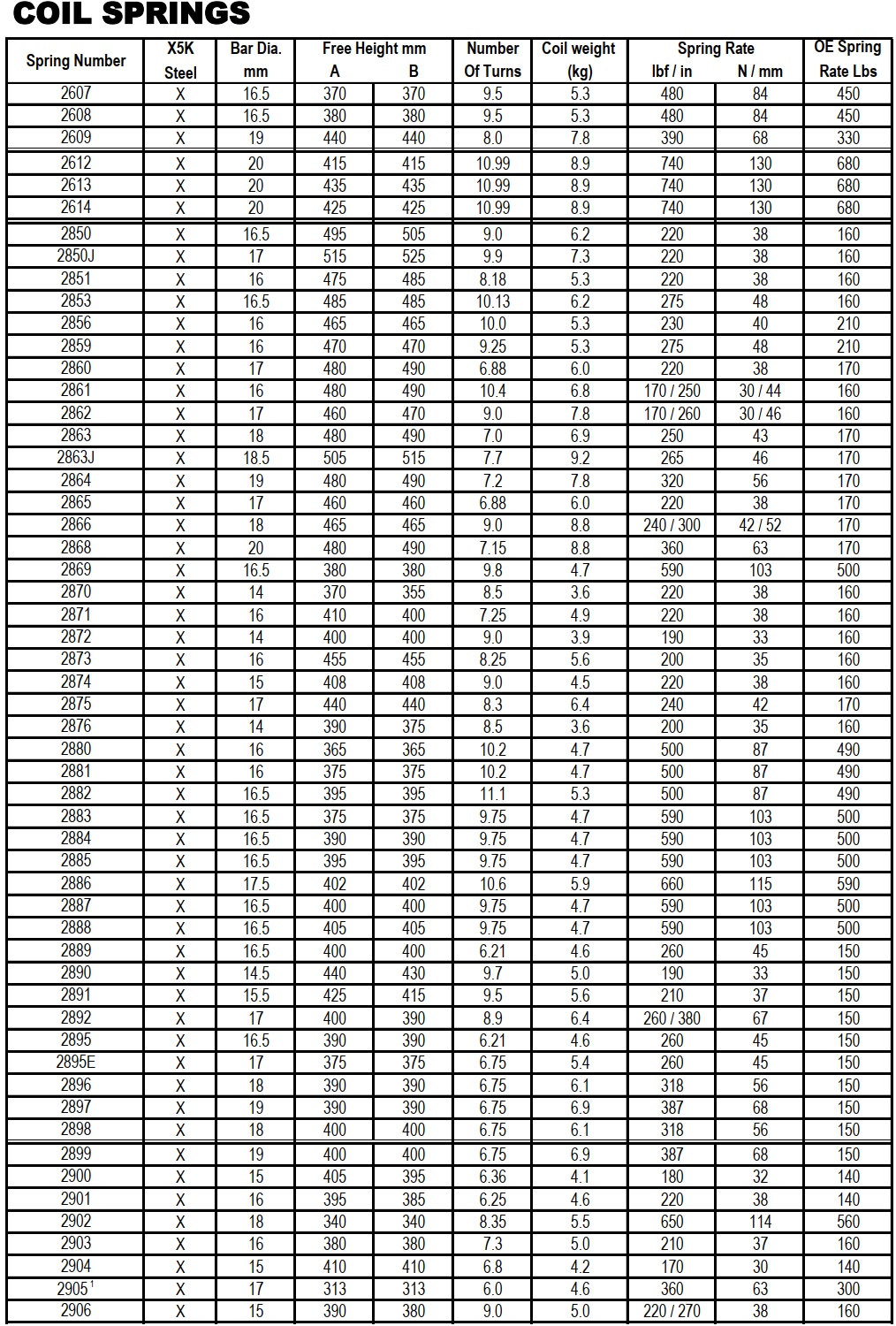 Questions and answers of the customers
Will the 883 coils give me 3inch of lift from level or from stock tow of the truck?

Q

Will the 883 coils give me 3inch of lift from level or from stock tow of the truck?

I am confused about whats in basic kit.. pict shows leaf springs... but i get oppinion have to add them. Mine are shot on a 99 4x4 man trans v6. If not incl in basic kit then how do they level it?

Q

I am confused about whats in basic kit.. pict shows leaf springs... but i get oppinion have to ad......

Read more answer now

A

1.5" ReadyLift Add A Leafs  are included in the kit for a basic price

which nitrocharger shocks and struts are these in this package and do they come assembled or dissasembled.

Q

which nitrocharger shocks and struts are these in this package and do they come assembled or diss......

Read more

With the 881's will I need to worry about damaging CV boots? I have an 01 Tacoma 4x4 V6 XtraCab, my goal is to do only a small lift and not have to make other upgrades. In the future I will probably get high clearance bumper for front and rear.

Q

With the 881's will I need to worry about damaging CV boots? I have an 01 Tacoma 4x4 V6 XtraCab, ......

Read more

Which coil would work better on my 4 door 2004 toyota Tacoma 2wd, 3.4?

Q

Which coil would work better on my 4 door 2004 toyota Tacoma 2wd, 3.4?

What specific mounting plates bushings and hardware do you use for the preassembled old man emu struts?

Q

What specific mounting plates bushings and hardware do you use for the preassembled old man emu s......

Read more

can i drive with the 883 coils and no bumper to balance it out or will damage occur?

Q

can i drive with the 883 coils and no bumper to balance it out or will damage occur?

answer now

A

You can drive but ride will be rather stiff and less comfortable

can i go with the 883 coils and drive it that way until i get a bumper or will damage occur?

Q

can i go with the 883 coils and drive it that way until i get a bumper or will damage occur?

after adding a bumbler and winch would it level out?

Q

after adding a bumbler and winch would it level out?

answer now

A

Yes if you have 1-1,5'' of rear lift

What size tire is recommended with this lift?

Q

What size tire is recommended with this lift?

answer now

A

If you have 1995-2004 TOYOTA TACOMA Rim* - 8" Tire Width* - 12" Tire* - 32" Backspace* - 4.5"

I would like to purchase the OME kit for a 2002 Toyota Tacom quad cap 3.4L 4X4 TRD edition. I want to confirm my order options before I place them to ensure I am getting the correctly desired parts: -I want the OME 883 coils heavy duty application -I want the rear DAKAR spring upgrade is this option CS046R SPRINGS 98-04 in the drop down menu? -I want the front diff drop kit -OME FK21 - is this the complete kit with the longer OME shocks 60062 OME and BPV-K BPV extension (or do I need to order this item separately as its not available in the drop down menu). Thank you for your response.

Q

I would like to purchase the OME kit for a 2002 Toyota Tacom quad cap 3.4L 4X4 TRD edition. I wan......

Read more answer now

A

All that you have listed you can choose from the drop-down list in the menu. When you select and click to add a card, all that you have chosen will be delivered to you the FRONT DIFF DROP KIT set also goes there This kit includes everything so that you get a 3-inch lift on the truck, as well as long rear shocks

Can I go with 881 coils without the top plate spacer if I don't care about getting a full 3" of lift or do I need the spacer anyway? Will the truck have extreme rake with 881 coils and a full Dakar pack (no AAL)?

Q

Can I go with 881 coils without the top plate spacer if I don't care about getting a full 3" of l......

Read more answer now

A

Hello, in order to figure out how much lift you need to level please take existing measurements from center of the wheel hub to the bottom of the fender. Difference between front and rear is how much lift you need to level. https://www.suspensionlifts.com/level.png

Are aftermarket UCA ' s required with this kit for proper alignment ?

Q

Are aftermarket UCA ' s required with this kit for proper alignment ?

answer now

A

UCA's are recommended but not required, the benefit of the UCA's is to fix the caster when the vehicle is getting aligned and also helps you a lot with articulation on the front end.

will it fit my 1996 Toyota Tacoma 5 lug 2WD 4 cylinder

Q

will it fit my 1996 Toyota Tacoma 5 lug 2WD 4 cylinder

answer now

A

This kit will not work on a 5 lug

A

Unfortunately no. For 5-lug we can offer only https://www.suspensionlifts.com/product-category/toyota-tacoma/1995-2004/1995-2004-5-lug-tacoma/

If I have the leaf springs from the 1998+ on my 1996 will it hurt my truck?

Q

If I have the leaf springs from the 1998+ on my 1996 will it hurt my truck?

answer now

A

No, it will not. What rear lift option do you want to choose?

What's the largest size tires i run with this lift? Sorry to ask such a rookie question

Q

What's the largest size tires i run with this lift? Sorry to ask such a rookie question

answer now

A

We are here to help) Such tires will fit without rubbing Rim* Tire Width* Tire* Backspace* 8" 12" 32" 4.5" Bigger tires will require some trimming. Also precise castercamber adjustment may help

Will this work for a 2004 tacoma 2.7L 4 cylinder 4x4 6 lug?

Q

Will this work for a 2004 tacoma 2.7L 4 cylinder 4x4 6 lug?

answer now

A

Yes, it will work wit all 6-lug Tacomas 881 coils – stock front weight- uses top plate spacers 883 coils for 200+ lbs additional front weight. (3″ lift, does not use top plate spacers) 881 coils aere better for your application because your engine (4cyl) is lighter then V6.

Will this lift kit work with a 2000 Tacoma Xtracab SR5 2WD 5lug 2.4L? Would I need to add anything else to the kit to make it work properly? How much lift should I expect?

Q

Will this lift kit work with a 2000 Tacoma Xtracab SR5 2WD 5lug 2.4L? Would I need to add anythin......

Read more answer now

A

For 5-lug Tacomas we can offer only * * * https://suspensionlifts.com/product-category/toyota-tacoma/2005-2015/2005-2015-toyota-tacoma-5-lug/

Will I need to buy new brake lines when I purchase this 3" lift??

Q

Will I need to buy new brake lines when I purchase this 3" lift??

answer now

A

I would definitely recommend extended brake lines for more than 3 inches of lift on the rear, on the front as long as you stay with in 3 inches it should be fine

Can I order this kit with only the front components? I already have an add-a-leaf in the rear.

Q

Can I order this kit with only the front components? I already have an add-a-leaf in the rear.

answer now

A

Yes, it is possible. What front coils spring rate do you need?

will it fit single cab, 2.7?

A

Will work - please choose the light coils for the front if you don't have additional weight - single cab and 4cyl engine are the lightest front among all tacomas and you may see some additional lift on heavy coils.

Will this kit fit a 2000 4runner SR5 6cyl 4wd?

Q

Will this kit fit a 2000 4runner SR5 6cyl 4wd?

answer now

How much all around lift can I expect on my 2003 4x4 DC Tacoma from a 881 coil with 90004 front shocks 60062 rear shocks and Dakar spring pack?

Q

How much all around lift can I expect on my 2003 4x4 DC Tacoma from a 881 coil with 90004 front s......

Read more answer now

A

3" front and about 2 1/4" lift in the rear