Description
Bilstein B8 8112 0-3.4″ Lift Kit For 2003, 2004, 2005, 2006, 2007, 2008, 2009 Toyota 4Runner 2WD/4WD
Part: 41-284834_41-284827_25-284584_25-284591
Front Coilovers:
Bilstein B8 8112 (ZoneControl) CR suspension kits are a direct fit, position sensitive coilover designed for light trucks and SUV's. ZoneControl CR is a revolutionary technology delivering position sensitive damping. The system incorporates a triple piston design, offering 3 stages of compression valving and 2 stages of rebound valving. The coilover module utilizes a threaded spring seat for ride height adjustability ranging from 0-3.8" (depending on application). The coilover is supplied with a remote reservoir for increased cooling and an accompanied, bolt-on anodized reservoir chassis mount. BILSTEIN B8 8112 (ZoneControl) CR position sensitive coilovers will offer unparalleled ride comfort during every day driving combined with maximum control over large suspension inputs.
Collapsed Length (IN): 17.99
Extended Length (IN): 22.80
Collapsed Length (MM): 456.9
Extended Length (MM): 579.1
Finish: Dampers: Zinc Plated/Springs: Black
Reservoir: Yes
Aftermarket Upper Arms Required: No
Body Design: Smooth Body (Coilover)
Body Diameter: 60mm
Adjustable Damping: Non-Adjustable
Optional Heavy Load Springs: 53-291387
Notes:
Front Lift Height: 2.2-3.3″
Without X-REAS Suspension
Fits models with V6 engine
Fits 4WD
Front Lift Height: 2.8-4″
Fits RWD
Front Lift Height: 1.3-3.4″
Fits models with V8 engine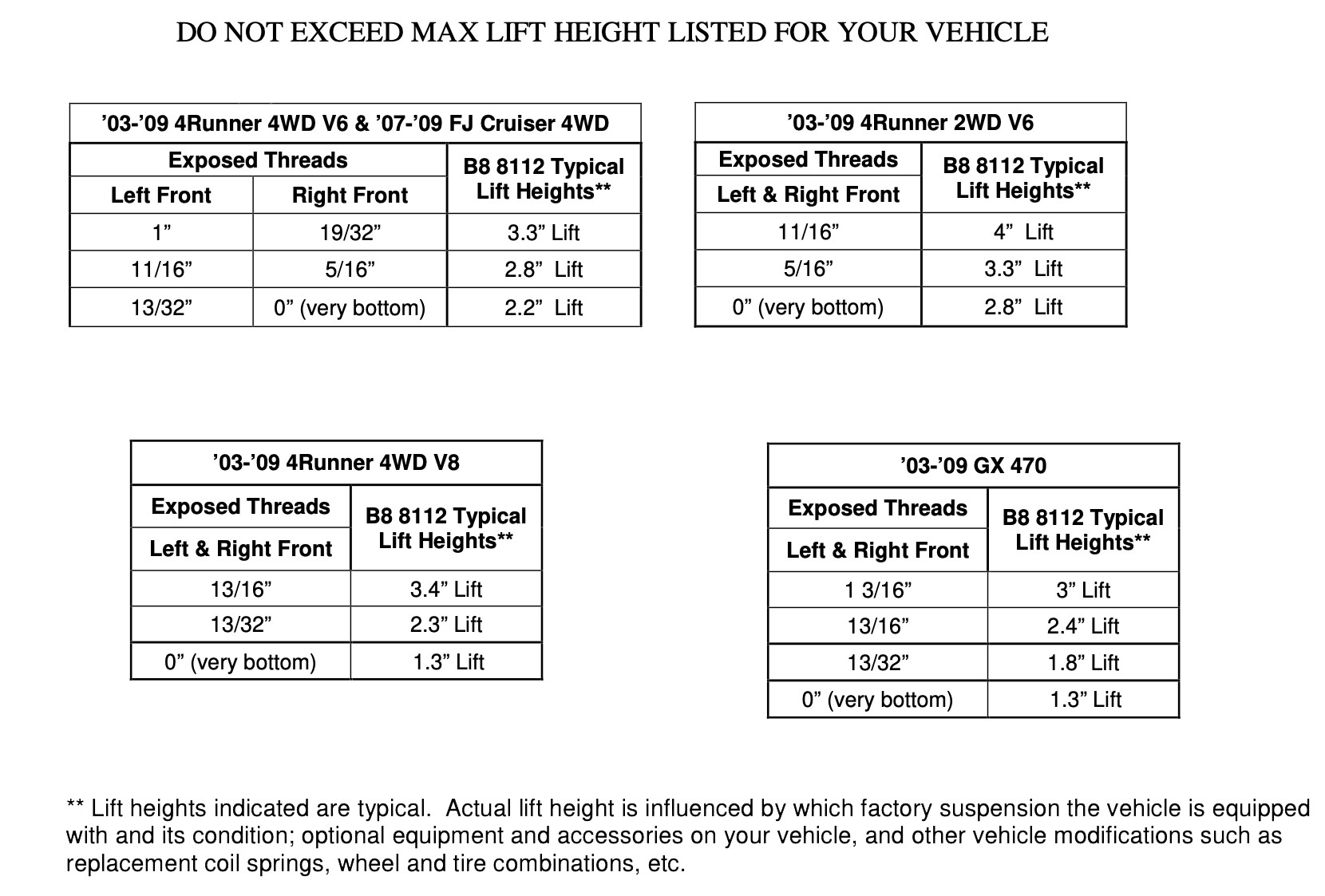 Rear Shocks:
Bilstein B8 8100 (Bypass) is a direct fit, position sensitive, damper for light trucks and SUV's. These motorsports inspired shock absorbers utilize a dual tube externally adjustable bypass design. B8 8100 (Bypass) feature "Incremental Flow" bypass adjusters, allowing for finite and incremental changes for rebound and compression. The shocks utilize a bottom hose, remote reservoir exit port, delivering increased compression control during the full cycle. The remote reservoir is supplied with a bolt-on aluminum anodized chassis mount for an easy fitment. BILSTEIN B8 8100 (Bypass) will maximize the driver experience, offering unparalleled ride comfort and incredible bottom out control.
Collapsed Length (IN):

14.72

Extended Length (IN):

24.09

Collapsed Length (MM):

374.0

Extended Length (MM):

612.0

Finish:

Zinc Plated

Reservoir:

Yes

Body Design:

Bypass Body (Non-Coilover)

Body Diameter:

60mm
Notes:
For Rear Lifted Height: 0.9-2.3″ 4WD (2003-2009 LIMITED, SR5)
Without X-REAS Suspension
Fits 4WD
For Rear Lifted Height: 1.7-2.5″ RWD (2003-2009 LIMITED, SR5)
Fits RWD
For Rear Lifted Height: 0-1.5″ 4WD (2010-2020 SR5, 2018-2020 SR5 PREMIUM, 2010-2016 TRAIL, 2017-2020 TRD OFF-ROAD, 2018-2020 TRD OFF-ROAD PREMIUM, 2015-2020 TRD PRO, 2020 VENTURE)
For Rear Lifted Height: 0.9-2″ RWD (2010-2020 SR5, 2018-2020 SR5 PREMIUM)
Questions and answers of the customers
How long until the 8112 are back in stock for the 4th gen 4runner? (2003-2009)

Q

How long until the 8112 are back in stock for the 4th gen 4runner? (2003-2009)

answer now

A

can't tell for sure, maybe few weeks