Description
Bilstein Front Height Adjustable 5100 shocks for 2000, 2001, 2002, 2003, 2004, 2005, 2006 Toyota Tundra
Part: 24-261425 (old: 24-188265)
Includes: 2 Shocks 24-261425 (old: 24-188265)
Front 5100 Height adjustable front shocks provide various lift: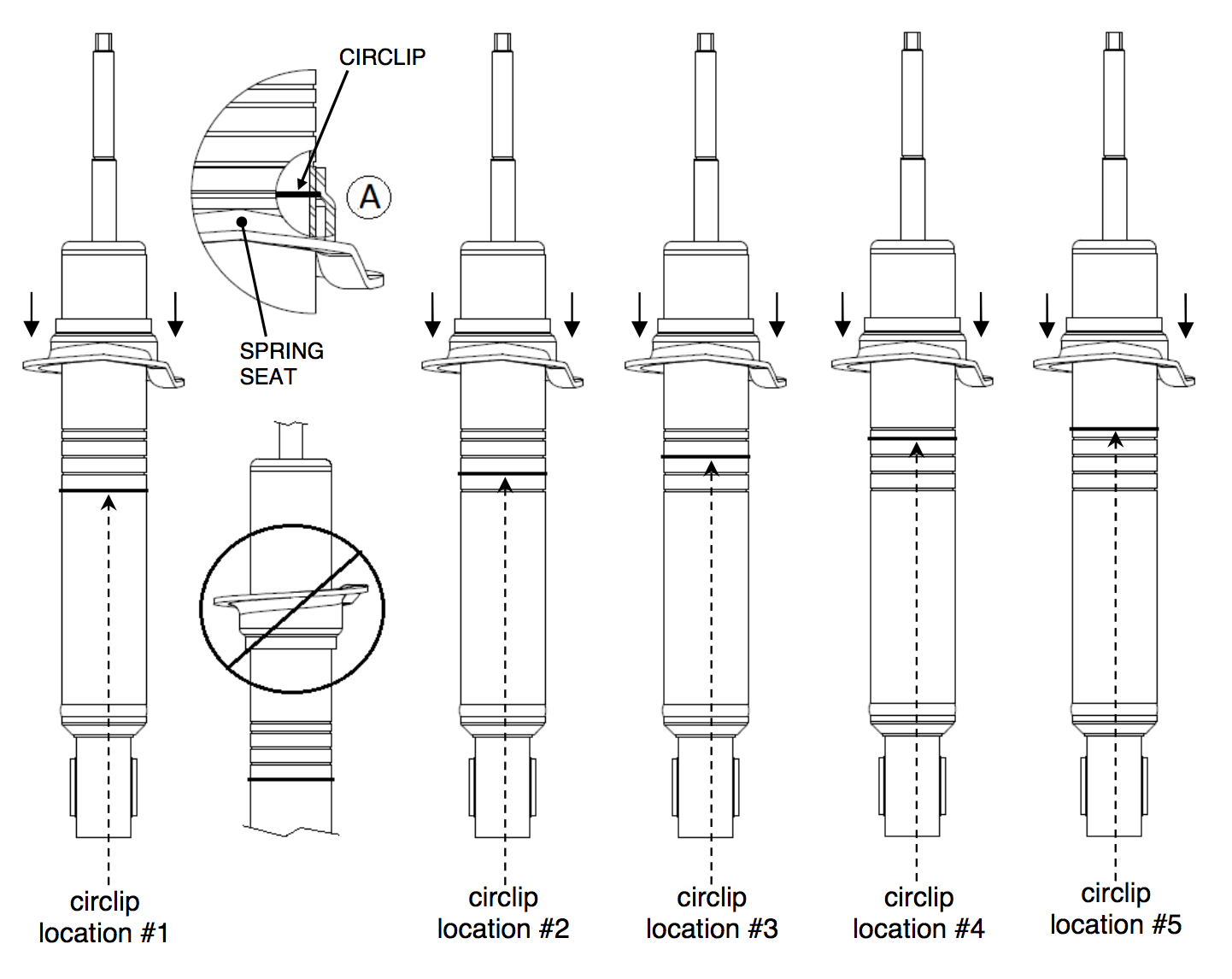 Typical Front Lift Height**
circlip
location #
crew cab
4×4
access cab
4×4
crew cab
4×2
access cab
4×2
1
stock
stock
stock
stock
2
0.53″
0.53″
0.63″
0.66″
3
1.07″
1.05″
1.25″
1.33″
4
1.6″
Do NOT use
1.88″
2.00″
5
Do NOT use
Do NOT use
2.50″
2.65″
On Crew Cab 4×4 models, do not use circlip location #5.
On Access Cab 4×4 models, do not use circlip locations #4 or #5.
** Ride heights indicated are typical. Actual ride height is influenced by which factory suspension the vehicle is equipped with and its condition; optional equipment and accessories on your vehicle, and other vehicle modifications such as replacement coil springs, wheel and tire combinations, etc. Modifying/lifting the suspension to your vehicle may raise its center of gravity and may make it more susceptible to loss of control and/or rollover, which may result in death or serious injury. We strongly recommend that you offset the loss of rollover resistance as much as possible by increasing tire track width, and that you equip the vehicle with a functional roll bar and cage system. Wear seat belts and shoulder harnesses at all times, and avoid situations where a side rollover may occur.
Designed for use with stock coil springs
Not recommended for use with any other front lift products
Priced and sold in pairs
Includes 2 Shocks
Other products you may be interested in:
Questions and answers of the customers
I have a 2006 Tundra TRD Off Road Access Cab. Which has the Toyota Bilstein shocks. Will the 5100s actually give me an additional lift compared to that ?

If i have upper control arms and a diff dropper, could i set the clips to the 5th setting on a tundra double cab 4x4?

Which circlip do I need to be on to be leveled with the rear?

Do you offer these loaded? If so, what is the part #

Can I set to the 4th or 5th clip if I get new UCAs? 2002 Access Cab 4x4 V8.

Will these fit with front coil springs: 48131-AF100 and 48131-AF090 on 2002 4Runner? If so, on which circlip position? Planning OME 890 in the rear with 33-187174 shocks.

This is the replacment for the 6" rcd kit right? do you offer coils for these as well?

can scalloping tire pattern occur if I set circlips at 5 for 2005 tundra 4x4.

In response to your answer from yest. I have a v8, so does that mean I should use the 3rd clip? How will it give me close to 3" of lift? The diagram said a little over 1"?

I have a 2002 tundra access cab. I want to level the truck but this says I can only put the 3rd clip. Why is that? Also can this be used with stock upper control arms?

Can I use with all stock parts ? Like cool over it is all stock no lift would just replace with Holstein I have now 2004 tundra 2x4

I have a 2002 Tundra SR5 6 Cylinder rear wheel drive with a FabTech suspension 2.5 lift, would the 5100 adjustable set work? Thanks.

Is it ok to have these struts instead of stock with a tough country 5 inch lift in the front which has the knuckles and a spacer for the front ?

Are these sold in pairs or individually?

If I have an existing leveling kit ( 3 in. ) on my 03 tundra sidestep. Would it be possible to leave the shocks at the stock level and continue using the 3" spacer? And, do you offer the whole set rather than by pairs?

Do you need to run 2 inch over stock coils with these or can you run stock coils?

I have a 2.5 inch lift above my strut With these shocks be smother then oreilly shocks or will it be about the same since the coil is compressed ?

I have a 06 tundra sr5 2wheel dr, and just won't to level front are raise more what shocks nand cost$

Will these work with Eibach Pro Lift Springs ?

I've got an all stock 2005 Tundra 4x4 that I'm just trying to level the front of - maybe 2-2.5" in the front. Will these shocks give me what I'm looking for alone? Or do I need something else as well? If so, what setting should I set them to?

I have a 2004 Tundra Crew Cab and want to use the Circlip location #5 to get maximum leveling height, If I buy the 1" diff. drop kit can I go from location #4 to location #5 ?

I have original stock billstien shocks withh a tweo inch spacer [ three years old. Can i get the same two in or one and half with 5100 series??

Thinking about buying for a 2006 tundra access cab. I see you can only raise to level 3, will I need anything else aside from these shocks (I.e. Diff drop, porportioning valve extension etc)

Why is it that I can't set the clips at the 2.5" mark on a 2005 Tundra Double Cab 4x4?